Mediterranean Village
San Antonio
Biograd na Moru
Mediterranean Village San Antonio
A beautifully peaceful place where you can enjoy an relax.
San Antonio Biograd Mediterranean Village covers an area of over 17.000 m² and offers perfect holiday in bright rooms located within stone bungalows surrounded by a century old pine trees. The village includes restaurant serving delicious Croatian and international dishes made out of fresh meat, fish and locally grown organic products. Guests staying at San Antonio can indulge in the crystal like dazzling waters of the hotel swimming pool whilst enjoying the gentle sea breeze and savoring refreshing drinks from our adorable pool bar. For our youngest guests there is a children's playground within the resort..
Each of the sixty-nine accommodation units is equipped with modern amenities and includes a spacious bedroom, a bathroom with a shower or a bathtub, and a terrace with a seating area. Our family units consist of two bedrooms that share a bathroom and a terrace.
Just a short walk from Dražica beach and a few minutes from the historic center of Biograd n/m, the Mediterranean Village of San Antonio has established itself as a symbol of hospitality and impeccable service making it the perfect place for those looking for a relaxing holiday destination in harmony with nature.
Welcome to San Antonio and indulge all your senses with stunning Mediterranean scents!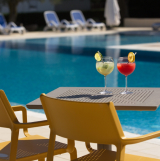 Pool bar
Delicious Croatian and International meals.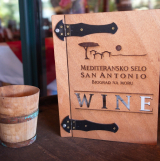 Own restaurant
Delicious Croatian and International meals.
A perfect vacation in bright rooms
The rooms are located within stone bungalows, surrounded by a centuries old pine trees.
6 room types to choose from/h6>
Book your vacation
All our accommodation units are air conditioned and have free wireless internet (wi-fi), TV set, shower or bath, as well as working area.
Best price per person + Half board
€ 57
What do our guests say about us?
Udobne, prelijepe, uredne kućice s terasom, ukusna hrana, pogotovo male palačinkice iz stroja, ljubazni konobari, … mir, tišina, savršeno mjesto …
Tamara
Hrvatska
Sve nam je bilo za 5 Trebao nam je odmor ,mir ,tišina,dobra hrana i dobili smo sve na jednom mjestu.
Ivančica
Bosna i Hercegovina
Odličan položaj /blizina dvije plaže Dražica i Soline/, uređenost okoliša, ljubazno i susretljivo osoblje, odlična hrana.
Marija
Hrvatska
Svi u objektu su jako ljubazni i susretljivi. Vlasnik treba biti ponosan na svoje zaposlenike, radi njih smo se osjecali odlično.
Lokacija je super, prava malo oaza za uživanje u blizini plaže i centra grada. Kucice su udobne i uredne, bazen super, okolis lijepo uređen…
Silvija
Hrvatska