Nestled far away from the crowds, yet in close proximity to the nearby beach, the perfectly positioned Sant Antonio village is your perfect holiday getaway. This unique village spreads over an area of 17 000 m2 with 69 stone bungalows, offering you full privacy and solitude. We invite you to experience the best in the region with friendly service and high-quality facilities, guaranteeing you a memorable and relaxing holiday.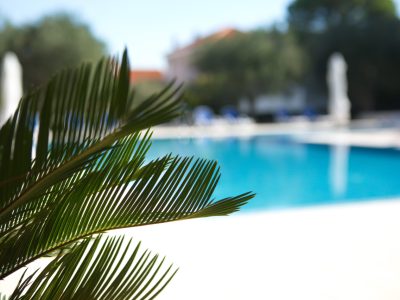 The Mediterranean village is located in Biograd na moru, a city positioned 28 km south of Zadar. The city is rather small with a population of around 5,500 citizens but is perfectly nestled in close proximity to the nearby Zadar, as well as to surrounding small villages and towns, as well as to other parts of Croatia. It's economy is based on agriculture, tourism and fishing. In addition, there are three national parks positioned nearby, each highly recommended of visiting: Paklenica, Kornati Archipelago and Krka river, as well as Nature park and Lake Vrana. Nature in this part of Dalmatia is truly amazing – perfect for families and adventure-seeking travellers. Biograd na moru is also known for its long beaches, nearby charming islands, tasty cuisine and fine wines. There is much to see and experience – you are always welcome to contact our sales agents to assist you with planning the perfect itinerary.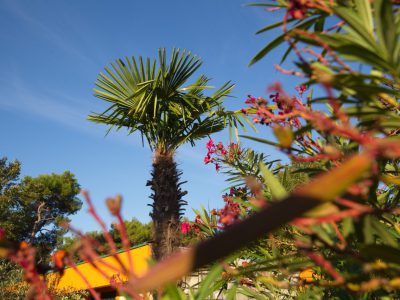 The village consists of 69 stone bungalows, each fully equipped with modern amenities, and includes a spacious bedroom area, a bathroom with a shower or a bathtub, and a small private terrace with a seating area. There are also larger in size available unites, as well as those family size, consisting of two bedrooms, suitable to host a larger size family. All rooms have cable TV, mini bar, wifi and air conditioning. There is also a spacious restaurant located within the village, offering breakfast, lunch and dinner, per request and agreement. You are invited to choose a menu from the menu selection offered – the village offers you the selection of best Croatian specialities. In addition, do not forget to relax and indulge in your 'me time'. Our resort's swimming pool is the perfect area for that – we suggest you to visit it in the morning hours for maximum relaxation. At the resort's café you'll find a wide variety of drinks for all tastes.
The summer holidays are an ideal time to get out and have a fantastic time with your children and friends. Our resort is ideally positioned only few walking minutes away from the nearby beaches, so you can have a great time swimming, lounging or enjoying water sport activities. Furthermore, there is an outside kids area at the village – so your little ones can also have a holiday of a lifetime.
To start planning your holiday at the Mediterranean village San Antonio – contact us today at info@sanantonio.hr / 00 385 91 2849152.
Book Accommodation
Plan your summer holiday, and book the desired accommodation unit in the Mediterranean Village of San Antonio,
by contacting us directly for a personalized booking service at info@sanantonio.hr or +385 91 2849152.
See our offer