While on a family vacation in the Mediterranean Village of San Antonio, feel free to enjoy some of the most beautiful, well-kept and facility populated beaches found in Central Dalmatia. These beaches are Dražica, Soline and Slanica and are located in the immediate vicinity from San Antonio. Sand, pebbles, crystal clear sea, shade provided by pine forests and an array of sports facilities and food outlets on the beach are the common attributes of these great family beaches.
Sandy and Well-Kept with Supporting Facilities
Croatian Adriatic has, without a doubt, been recognized for the beauty and purity of its beaches. However, there is more than meets the eye. For instance, the images of turquoise and crystal blue bays with reefs on the hidden islands and islets in Croatia while seductive for its beauty and purity, are often limited to the island hoping travelers only. Unless you are making a stop with a boat, you will find the inaccessible terrain and a lack of facilities, a bit less appealing for your family holiday.
We recommend the beaches of Dražica, Soline and Slanice because, in addition to providing a pleasant terrain through a mixture of sand and gravel, they also posses the appropriate infrastructure such as sports facilities and many food outlets, as well as well-kept public toilet.
Based on the past reviews of San Antonio guests, we have learned how these beaches captivate families, especially parents that are able to relax and create unforgettable memories with their spouses and children during a family holiday.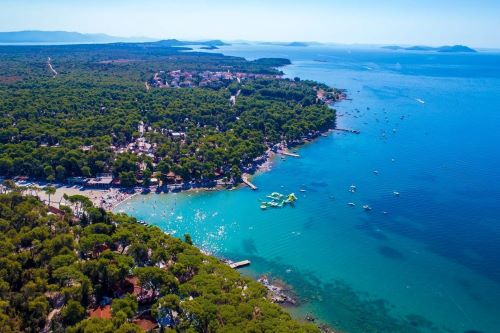 Soline Beach by: TZ Board of Biograd na Moru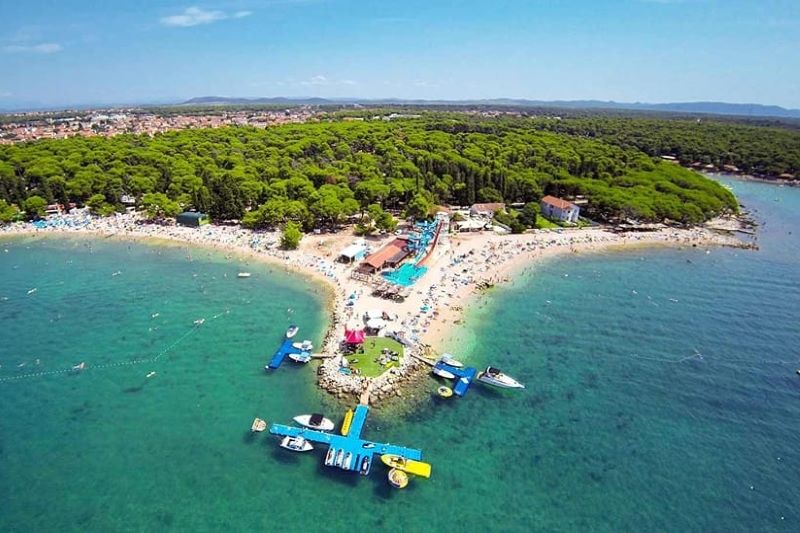 Dražica Beach, photo by Croatia.hr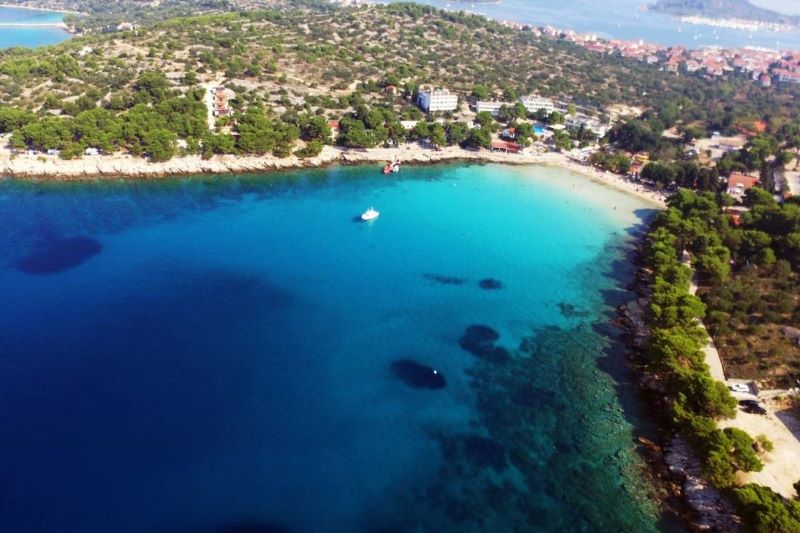 Slanica Beach, photo by: Visitmurter.com
Water Slide, Aqua Park and Shallow Access for Small Kids
In addition to the common attributes of cleanliness, accessible terrain and the supporting infrastructure, each beach has its own appeal that differentiates them from another. Exceptionally shallow water running for almost 30 m on Slanica Beach is ideal for families with small children, whereas diving lovers may enjoy the scuba diving lessons offered on Dražica beach. School children, especially those in a need for an adrenaline rush may enjoy the Aqua Park located at Soline Beach or the enormous water slide on Dražica Beach.
This is an overview of what to expect on your perfect family beach near the Mediterranean village of San Antonio:
Beach
Distance from San Antonio
Terrain
Shade
Facilities
Special For
Dražice
1-2 min drive10 min walk(500-600 m)
Gravel
Pine trees
Snack and beach bars, water sports and scuba diving club
Blue Flag CertificateWater Slide
Soline
1-2 min drive10 min walk(500-600 m)
Gravel & Sand
Pine trees
Pedal boats, kayak, Aqua Park, beach volleyball court, cafes, restaurants and fast food outlets
Beautiful BayAqua Park
Slanica
40 min drive(Murter Island)
Gravel & Sand
Pine trees
Tennis, beach volleyball, beach bars, pizzerias and traditional Dalmatian restaurants
Shallow beach spreading up to 30 m from the shore; ideal for small children nonswimmers;
enjoyed by Picigin players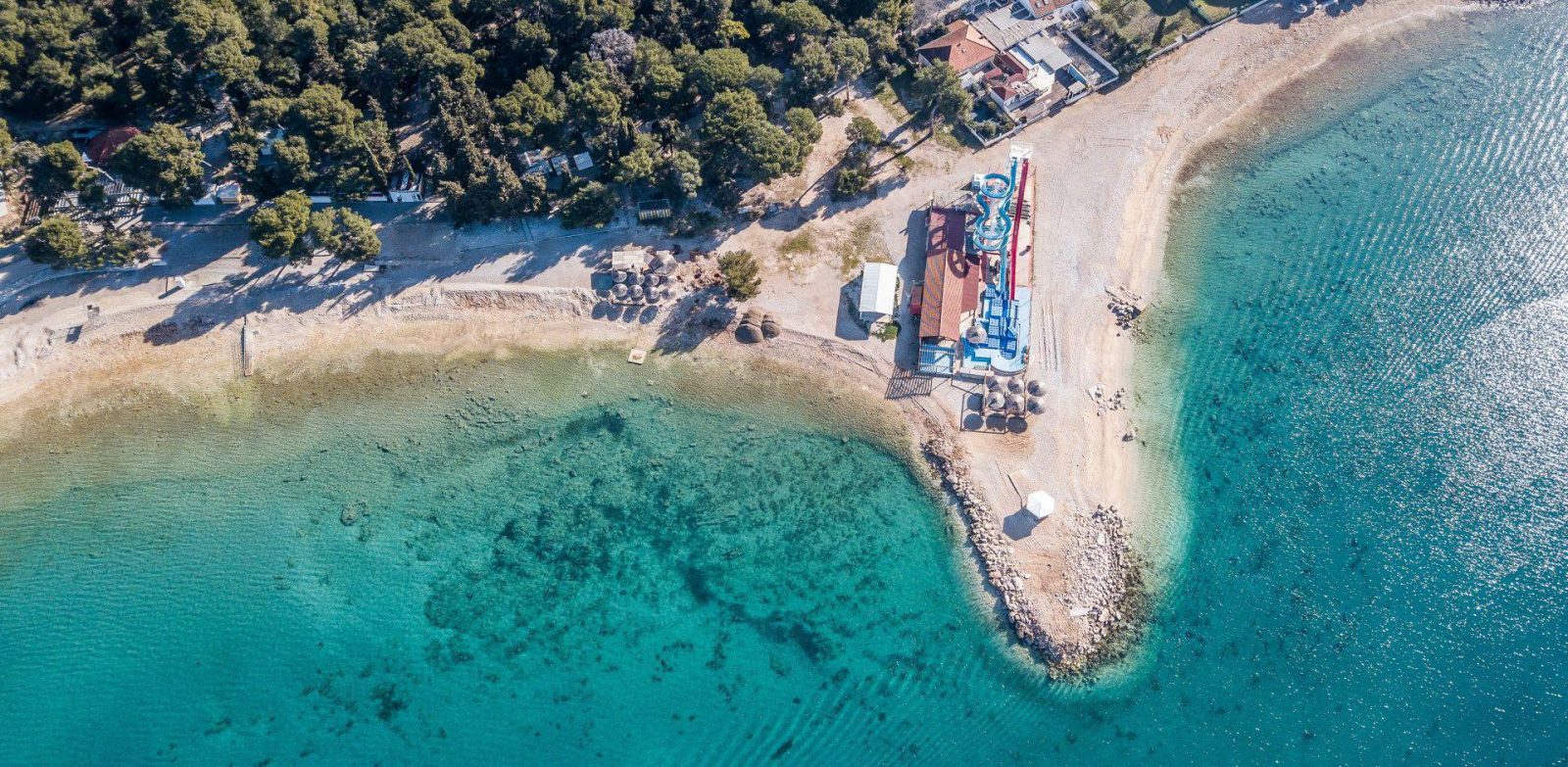 Slanica Beach – Facebook page Visit Murter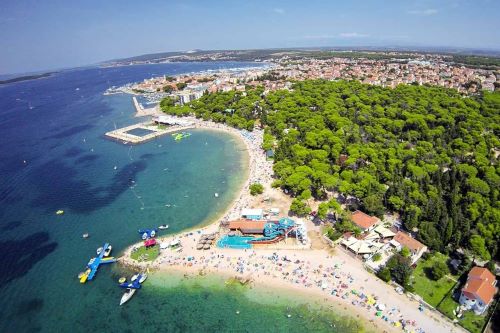 Dražica Beach, by TZ Board Biograd-na-Moru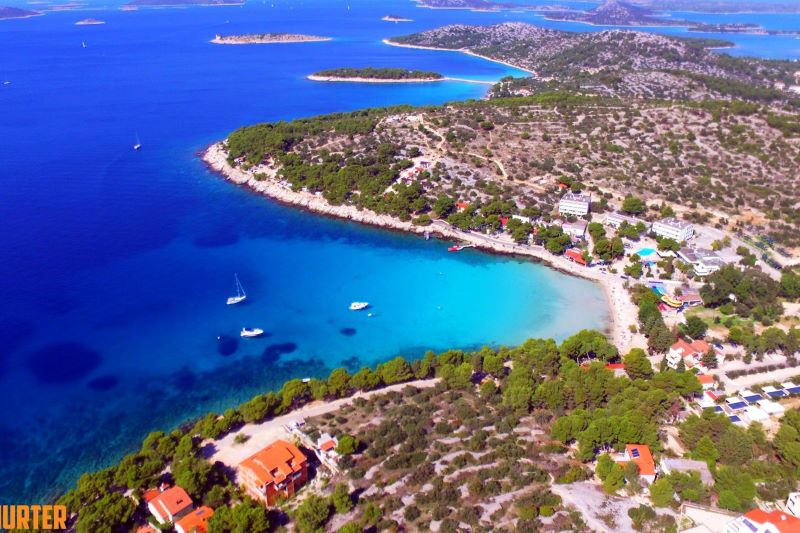 Slanica Beach – Facebook page Visit Murter
For more information on the beaches of Dražica and Soline, as well as on other beaches in Biograd, please visit the Tourist Board of the City of Biograd na Moru page, as well as the website of the Tourist Board of Murter for more information on the Slanica Beach.
Book Accommodation
Plan your summer holiday, and book the desired accommodation unit in the Mediterranean Village of San Antonio,
by contacting us directly for a personalized booking service at info@sanantonio.hr or +385 91 2849152.
See our offer